for the strength of youth activity.
sometimes sitting outside makes us sunburned, exhausted, & a little distracted.
game night on wednesday!
our company NONE GREATER won 1st in the skit & banner categories! (everytime we've gone to efy our company has kind of stunk. we had never won anything before!) this was a big accomplishment!
we memorized the 13th article of faith!
hilary gave us stickers to put on our name tags when we passed it off. seriously, one of the most rewarding feelings! we're not known for our memorizing skills ;)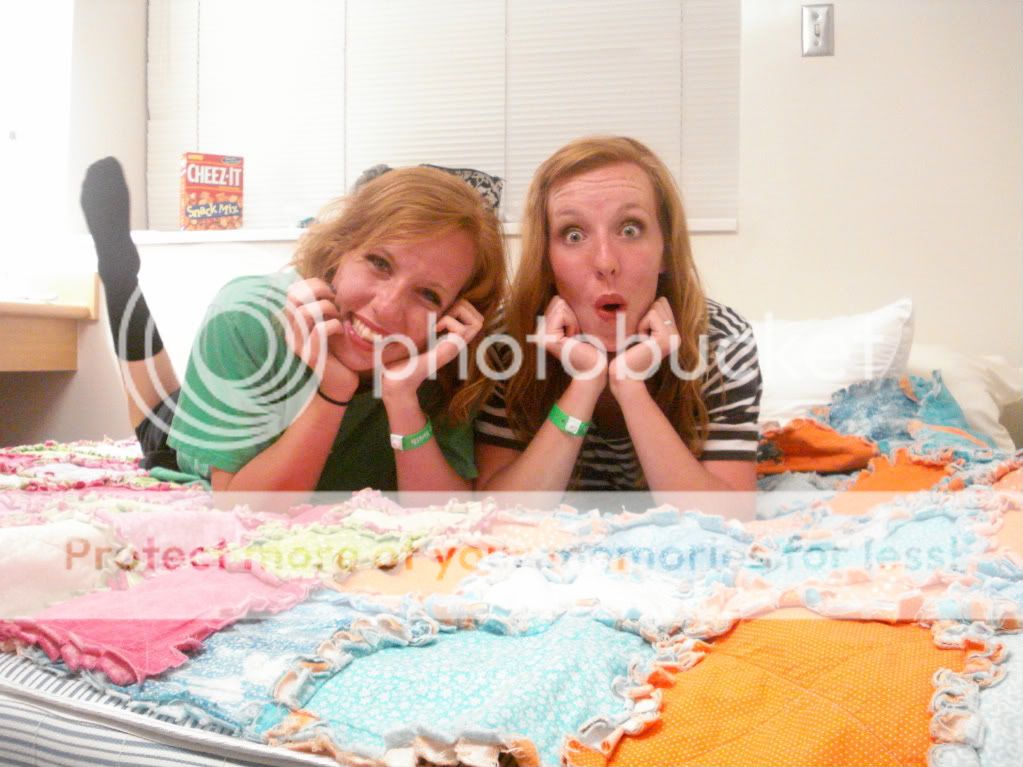 we moved our beds next to each other all week!
usually the beds are spread accross the room, but we love each other so much that we moved them. hooray!
we had some injuries.
taryn accidentaly hit taylor in the face & gave her a big lip. (& yes, it was an accident) on monday night at family home evening, our company was playing games maybe a little too aggressively. the pictures don't do it justice, because now we have scars that make us look like cutters.
best believe justin came.
no way were we leaving him behind for a whole week!
who's that creepin' out the windoow?
oh yeah, it's taryn & taylor during free time. there were lots of people outside. one day, some
people put on
a concert for us - accoustic guitar & all. best seats ever :)
our friends blakey-poo & michael freaks.
they're definitely the most gullible people ever. they basically believed everything we said! eventually we told them the truth, but it was fun while it lasted :)
efy was honestly the best week ever. we made so many new friends & have soo many memories! both of our testimonies grew tremendously & we had so much fun learning new things. our favorite moment was friday after breakfast: our counselors josh & hilary, another counselor jordan, us, & blake & michael just sat there telling stories. at one point we were all laughing so hard that we couldn't even remember why we were laughing, we just were - holding our stomachs, hoping our pants were still dry when we stood up, don't you love those moments?
thanks efy - you treated us well!
- tar & tay